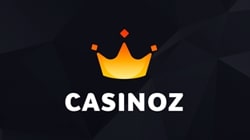 You Are My Lord You Are My Lord Slot Review
During all the human's history people believed in some supreme powers. They could be numerous gods, nature powers or the one God. Faith always gave people confidence and even the gamblers often call to their gods with help to win. The specialists of Alfaplay company understand that such topic can't leave fans of slot machines cold-blooded, that's why they have released a new online slot machine named «You Are My Lord», which is devoted to people's belief of the supernatural powers. Its topic goes beyond on some special religion. Most likely that it is a developers' dream, because Christian analogies neighbor with magic and dragons here.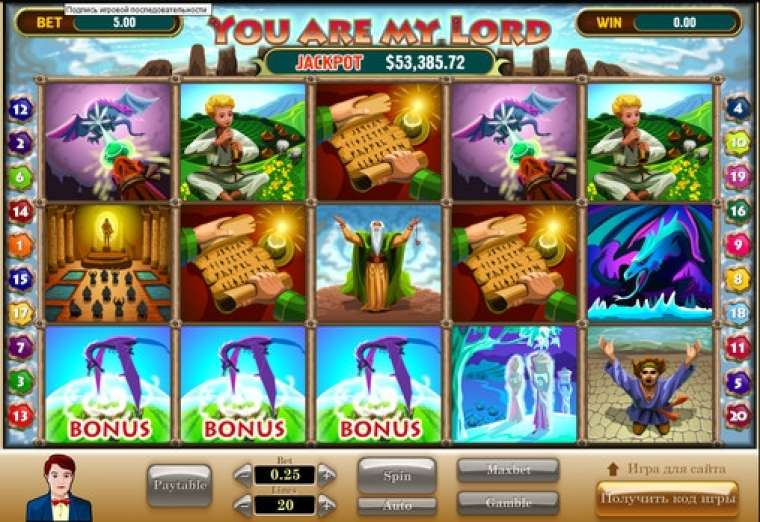 Play You Are My Lord slot
«You Are My Lord» is the slot machine developed by Alfaplay company, which has five reels and twenty pay lines. It is provided with a bonus game, free spins, the special symbols, the gambling feature and a progressive jackpot.
Winning combinations are carefully described in the payment table. We can only say that they consist of from at least of two or tree to five similar symbols situated next to each other at the same active line, starting from the first left reel. The special symbols form combinations by the special rules.
The gambling feature, which can double up a win received in result of one of the lucky spins, is implemented in an unusual way here. Here you would see five men which are praying on their knees. One of them needs rains, others ask for sun. You have to choose one of the options first and then the prayer. If you make a right choice, the prayer is happy and your win is doubled up. In case of wrong choice the man puts his hands on his face and falls down and you lose your bet. It is possible to increase the win 512 times in this round if you manage to guess ten times running. However it is possible to quit the game and collect money after every round.
You Are My Lord Symbols, Wild, Scatter
Dragons, a Pegasus, people rising hands in pray, mysterious rolls and even a character which reminds Jesus Christ - such an unbelievable mix of symbols and images impresses imagination of the customers of «You Are My Lord» slot machine.
A warrior going down from heaven with a sword, which reminds Jesus Christ, is the animated Wild symbol of this game. It can replace almost any other icon, when it is necessary to help making or strengthen a paid combination.
Your total bet per all lines can be increased from three to one hundred times when from two to five symbols with image of a view of red sky and tornado appear anywhere at the screen in the same time.
An image of a desperate man rising his hands up to heaven is your ticket to twenty-five free spins. To get it, you need to pick three such symbols at the screen independently of their location.
An animated symbol with a flying dragon which tries to kill a group of people is Bonus symbol of this slot.
You Are My Lord Bonus games
The bonus game of «You Are My Lord» slot machine, which takes place at the special screen, can be triggered by from three to five Bonus symbols dropped out at the active line.
In this round you are going to see a horse rider on a horse, rising up his spear and ready to attack the dragon. Next to them, several men rising up their hands in pray on the knees which you would have to choose one by one. If pray of the man you choose is strong enough, a sphere which protects them from fire from the dragon's mouth and helps the knight kill the monster rises up above them. In this case you win is multiplied by some index. However pray doesn't work in case of wrong choice and the dragon kills people and the bonus game finishes with saving of all earned credits. However you are guaranteed with the minimal win even if you make a mistake at first attempt.
Size of the multiplier depends on number of bonus symbols at the reels included into the combination. If there were three of them, the multiplier is x50, four of them rise it up to x500 and five such symbols gift you with x1000.
Jackpots
Jackpot symbol of «You Are My Lord» slot machine is an image of the Pegasus flying above the peaceful view. To win the progressive jackpot, you have to hit five such icons at the same active line playing by the maximal bet.
You Are My Lord Interface
Of course, the reader of Casinoz are well familiar with slot machine developed by Alfaplay, that's why we are not going to describe the interface of «You Are My Lord» video slot in details, which doesn't make any difference to the rest models. Anyway, it is extremely plain and user-friendly. The payment table is available in several languages.
The graphics of this slot machine is quite interesting, but can't be called high class. The same can be said about the animation of some of the symbols. The background music doesn't impress with any originality.
Conclusion
The topic of «You Are My Lord» slot machine can seem interesting, but, taking a closer look, the mix of symbols looks ridiculous. The gambling feature and the bonus game are presented in uncommon form, but can hardly be called exciting. In the rest, it is the typical slot by Alfaplay with all its advantages (for example, simplicity and the convenient interface) and disadvantages (the primitive graphics, poor background music and etc.).
Where to play You Are My Lord for free or real money?
«You Are My Lord» slot machine is available for free testing and the real game in many online casinos. The team of Casinoz can recommend such gambling houses as
Slotico
or
Granat Casino
.Please share your impressions of «You Are My Lord» slot machine with us and other readers of Casinoz. You can write your responses in comments to the review and rate this game. Your opinion is very important for us.