 About
The world of business is a complicated world. Sometimes everything goes like clockwork, obstacles and surprises are easily overcome. Sometimes everything is failed regardless of any aspirations. Business is a game in which wonderful moments follow black days. The slot machine Businessman provides a great opportunity to try your luck in business. However everything is easier here than in real life: you need to make a bet, spin reels and get a payout. It is not correct to compare the slot Businessman to the modern multi-line slot machines. However it has plenty of fans, especially among those who prefer traditional gambling.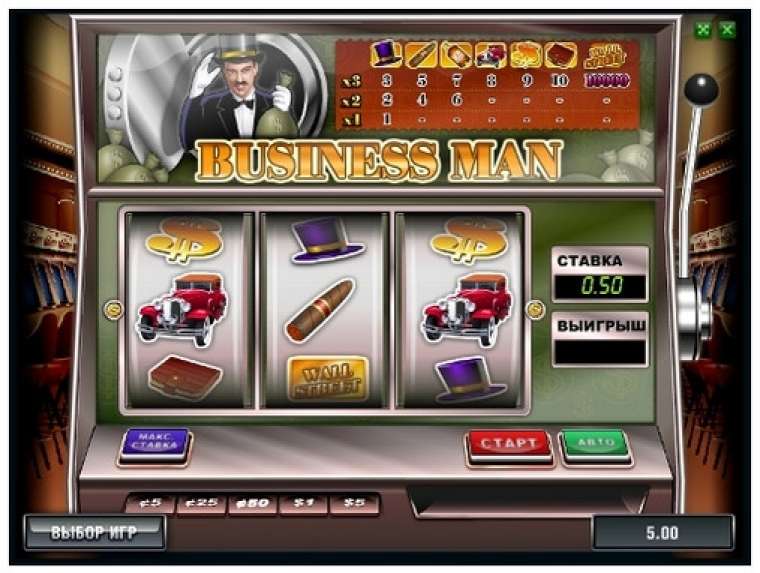 General description
The free slot machine Businessman has three reels. There is no need to select the number of paylines, as only one is available. Spins of the reels are independent from each other.
The range of bets per spin in this game varies from five cents to five dollars.
The slot machine Businessman does not provide special symbols, games on even chances and free spins. Automatic mode is not available. The maximum payout is x10,000. Winning combinations are formed in the payline from left to right.
There is no information about the theoretical payout percentage.
Symbols
Users can see various symbols that relate to the concept of business on the reels of the video slot Businessman, including a cool retro car and indispensable attributes of a businessman: a smoking pipe, a top hat, a purse, a beautiful dollar sign and expensive cognac.
The most desirable icon for the user, who plays for real money, is Wall Street. It is a symbol of a gold card. A combination of three such symbols brings the maximum win, which is the made bet multiplied by 10,000.
Bonus games
Bonus rounds are not provided in the slot machine Businessman.
Jackpots
There is no progressive jackpot in this slot.
Interface
The interface of the simple slot machine Businessman attracts by its design. There is the classic slot machine on the screen, which has been known for a long period of time.
It is possible to start the round by clicking on the button Spin or push the arm, located to the left of the reels.
The control panel has the following buttons:
Total Bet shows the bet per spin,
Win shows the payout size,
Bet Max allows playing betting the highest possible sum per spin,
Auto triggers automatic mode.
The pay table is located above the reels, which is very convenient for gamers.
Conclusion
If you are a thrill-seeker and want to make a real step towards the maximum payout, the slot machine Businessman has been released for you. Its simplicity and speed of its design helps to enter the world of gambling.
Where to play for free or real money?
The slot machine Businessman is available for playing using conditional bets or for real money at all casinos running on software from Globotek. Our portal Casinoz provides the opportunity to play for fun.