 About
The developers of SkillOnNet company are famous for their talent of finding uncommon solutions of predictable issues. We can't say all of their innovations are successful, but «Castle Blaster» online scratch card is a great result. This game is classified as scratch card, but it's not easy to understand it at the first sight. Actually, enough talking - it's time to attack the fortress!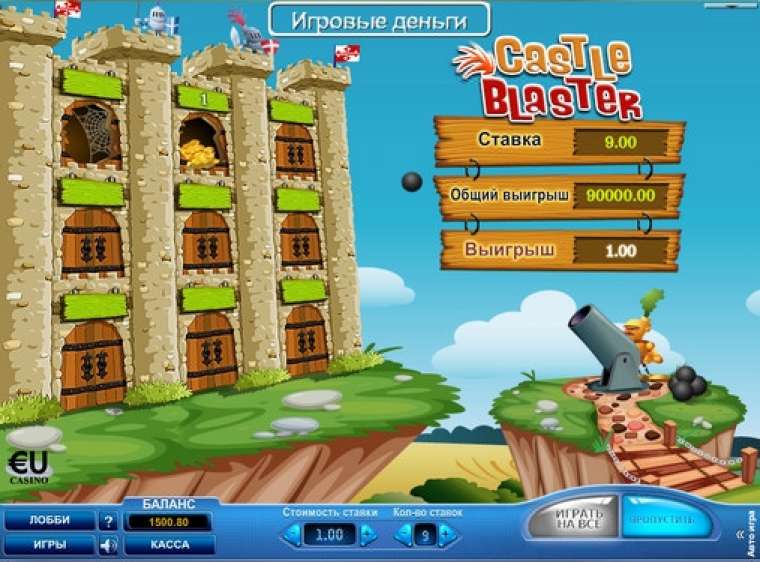 Play Castle Blaster
«Castle Blaster» is an
original online scratch card
where you would have to shoot by boarded windows of the fortress searching for gold.
There are nine windows which play part of lottery ticket cells in «Castle Blaster», but you can activate any of them. For example, in EU Casino it is possible to stake from ten cents to ten euro per one field. It means the high-rollers have an opportunity to play «Castle Blaster» scratch card by the maximal bet in amount of ninety euro.
Payoffs by ticket cells don't depend on each other. You can win one or few prizes. The maximal win by one position can reach ten thousand bets.
If you play by all nine cells, the computer opens them all automatically for you. If you play by eight or less positions, you can choose any order to shoot the windows. The gameplay can be speeded up with help of the special buttons at the control panel.
Castle Blaster Bonus games
Any bonus payouts are not provided by the rules of «Castle Blaster» online lottery.
Jackpots
A progressive jackpot is not drawn in «Castle Blaster» scratch card.
Castle Blaster Interface
The interface of «Castle Blaster» game is quite simple: the castle is situated at the left, the cannon and the shooter - at the right, the control panel can be found in the bottom and wooden boards where an amount of the bet, an amount of the payoff and potential win are displayed are on the top. It is easy to understand everything here.
There is no sense in explaining functions of different buttons and windows of the control panel of «Castle Blaster» scratch card, because you can download this model in your original language. It is also possible to switch off the sound and check detailed rules of «Castle Blaster» at the website of EU Casino.
Conclusion
«Castle Blaster» is the funny online scratch card with the original interface, high payouts and, that is also important, the multi-language interface. Launch it, have fun and win a lot!
Unfortunately, we don't have any information about the theoretical payback index of x «Castle Blaster» scratch card.
Where to play Castle Blaster for free or real money?
You can find «Castle Blaster» game in EU Casino which allows playing this game both by the real and virtual bets. You can also look for this model in other online casinos powered by SkillOnNet software. The reviews of online casinos published at Casinoz would help you to choose the best.