 Silverball Review
There are several models of bingo in the list of online gambling games developed by Novomatic. One of such models is Silverball Bingo. It is an interesting kind of virtual bingo, playing which is possible by several cards in the same time. Moreover, it has an unusual interface, which is one of its numerous advantages.
Rating
Excellent
8.38 /10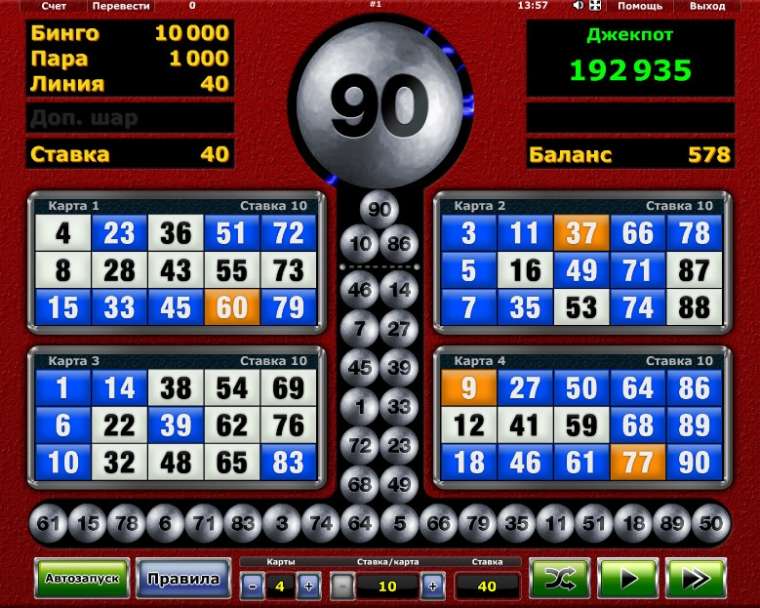 Play Silverball
Silverball Bingo is a free online bingo, where ninety balls, numbered in order are used. The balls appear from the sphere, where the flashlights are burning. Thirty balls, selected by the random numbers generator, are dropped out in one round.
Playing Silverball Bingo is possible by one, two, three or four cards. The bets per cards have to be the same in range from ten credits to two thousands and half credits. This way the maximal bet per round can reach ten thousand credits. It is possible to stake equal amounts at the used cards.
The aim of the game in Silverball Bingo is to collect one, two or three lines in the card. The winning amount per one filled line is calculated by x4 index, for two lines by x100 index and by x1000 for the whole card.
The gameplay of Silverball Bingo is extremely simple. You indicate the quantity of tickets you want to play by, select an amount of the bet and launch the round. Then the balls would appear at the screen. Its numbers would be automatically marked in the cards. In case some tickets are the winning, the payoffs are immediately transferred to the player's account.
If you miss just one number to fill a pair of lines or the whole card, it is possible to buy up to eight extra balls. Its cost is different in every special situation.
Unfortunately, we don't have any information about the theoretical payback index of Silverball Bingo online bingo.
Silverball Bonus games
The bonus rounds or prize payoffs are not raffled by the rules of Silverball Bingo online bingo.
Jackpots
A progressive jackpot is raffled in Silverball Bingo online bingo game. To become its owner, it is necessary to collect bingo using up to thirty balls. An amount of the jackpot is increased with every bet, staked by the player. Of course, it is possible to win it only playing by the real bets.
Silverball Interface
Fortunately, the interface of Silverball Bingo model is available in several European languages, so you wouldn't feel any discomfort during the game even of you don't speak English well. The control panel is intuitively clear. There is a section with rules and an automatic game mode.
You can select a quantity of cards on your own. It is allowed to mix it. To change all the lottery tickets, please use the special button at the control panel. It is possible to change tickets one by one clicking at it. The balls appear in the sphere, which is situated in the top part of the screen. Then the balls are dropped out between the pairs of the cards and fill all the empty space. The button of purchasing the missed balls appears at the screen only in situations when it can be used.
It is not necessary to download Silverball Bingo online bingo, because this game is available right in a browser, so you can launch it right at the website of the online casino.
Conclusion
Silverball Bingo is a convenient and interesting kind of bingo. If you like versions of this gambling game, we highly recommend you to test this model. It is pleasant from all sides and, that is quite important, has a multi-language interface. Moreover, Silverball Bingo raffles a progressive jackpot, that is also very pleasant. You can find advices by bingo game in the special department of Casinoz.
Where to play Silverball for free or real money?
Silverball Bingo online bingo is available in a real and a training mode in the online casino StarGames, where many models developed by Novomatic are presented as well. However, it is impossible to test bingo without registration even by the virtual bets, that's why you would have to open an account. It is possible to make just in few minutes. It is not necessary to charge an account.
Please don't be lazy to write a couple of words about your impressions about Silverball Bingo. You can write your responses about this online bingo in comments.