 About
It is hardly possible to find a teenager or an adult man, who has never been interested in martial arts in his life. In case, many girls do not stay aside as well. The Oriental martial arts are especially popular all over the world already for many years. If you are not indifferent to this subject, perhaps, you can be attracted by «Golden Dragon» slot machine, which is devoted to kung-fu. The masters of all ages, both sexes and different status are fighting at the background of snow-white mountain tops, Chinese pagodas and green forests.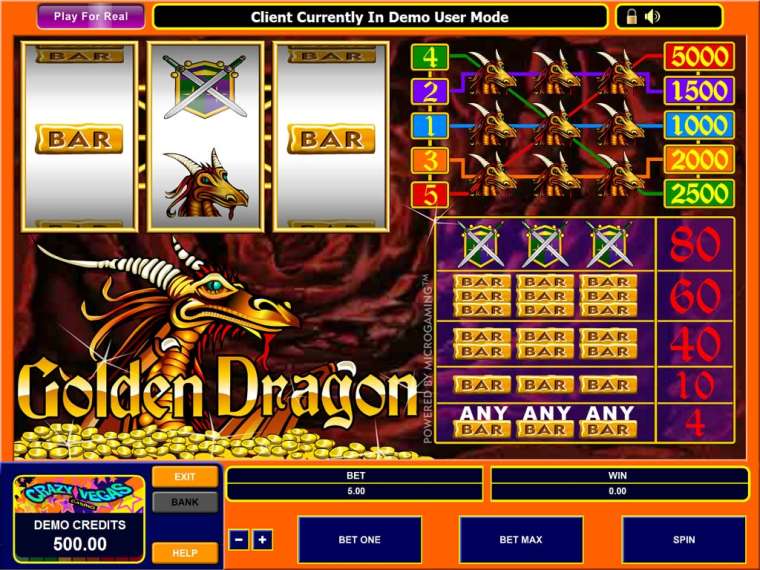 General description
«Golden Dragon» is the video slot developed by
Alfaplay
company, which has five reels and twenty pay lines. It is provided with Wild and Scatter symbols, a bonus game, free spins, the gambling feature and a progressive jackpot.
You can find the list of winning combinations in the payment table. We can only say that they have to consist at least of two or three similar symbols, situated next to each other at the same active line, starting from the first left reel. The only exception is combinations formed of some special symbols.
If you win some amount in result of a lucky spin, you get an opportunity to increase it many times. To make it you need to click at Gamble button and start playing in the gambling feature. Here you would see an emperor and dragon fighter in fighting stances. You have to guess who of them wins in the battle and choose a potential winner. If your choice is lucky, your win is doubled up. In the other case you lose your bet.
Symbols
As «Golden Dragon» slot machine is devoted to the Chinese kung-fu masters, the gaming symbols, which you can see at the reels, are these characters, as well as traditional building and views.
Part of Wild symbol is played by an image of an honorable white-haired monk, staying in a fighting stance at the mountain plat. This symbol can replace almost any other icons (except of Scatter), when it is necessary to complete or strengthen up a winning combination. Moreover, five such symbols at the same active line bring the player the highest (after the jackpot) prize in amount of 5000 bets.
If you see from two to five images of battle of the girl with the emperor, you can be sure that your total bet would be multiplied several times (from three to one hundred). Location of these symbols doesn't make sense.
There is also no difference in which order three images of the fighter armored with a pipe and taking fighting stance between the trees drop out at the screen. Anyway, these symbols trigger ten free spins.
The bonus symbol of «Golden Dragon», which triggers the bonus game at the special screen, is an image of the golden coin.
Bonus games
The bonus round of «Golden Dragon» slot machine begins when from three to five bonus symbols appear at the same active line. Here you would see nine golden coins with images of the dragon. You can increase your win picking them one by one. Every lucky pick multiplies your bet several times. Size of the multiplier depends on how many bonus symbols have dropped out at the reels. If there were three of them, your bet is multiplied by x50, four such symbols multiply it 100 times and five golden coins rise up 500 times. However if you pick a coin with «Game Over» title, the bonus game is finished with saving of the current win.
Jackpots
«Golden Dragon» slot machine offers the players to fight for the progressive jackpot. There is only one jackpot in this slot and it can be won when you hit five special symbols with the image of the martial arts master in a white kimono at the same active line. Moreover, you have to play by the maximal bet necessarily.
Interface
Well, there is no sense in detailed description of the interface of «Golden Dragon» slot machine, because it doesn't make any difference to the rest video slots produced by Alfaplay company. Here you would find the standard selection of controlling buttons and windows, such as Bet, Lines, Spin, Gamble, Auto, Paytable, Maxbet, Win. It is also possible to activate the automatic game mode or switch off the background music, which suits the topic of the slot, but it is getting boring quite fast.
The graphics of this slot machine can't surprise with any special elegancy. The animation is also quite primitive.
Conclusion
This online slot machine doesn't stand agains the rest video slots developed by Alfaplay with anything special. The same interface, the poor design and the boring music. Only the topic can please you, of course, if it is close to you. In the other words, we recommend you to play for fun first, while such an opportunity is provides almost by all online casinos, and then decide should you stake the real money on this slot or not.
Where to play for free or real money?
In the current time «Golden Dragon» slot machine can be found in many online casinos, powered by the software developed by Alfaplay. Casinoz can suggest you testing it in such gambling houses as
Melonati Casino
or
Upslots Casino
.Your responses about «Golden Dragon» slot machine would help us making Casinoz more interesting and useful for the readers. Please share your impressions in comments to the review and rate this game. Your opinion is very important for us.