 Sevens Wild Poker Review
The main difference between Sevens Wild Poker released by GloboTech and other variations of this game is the fact that all sevens in the deck act as wild cards. They help users to collect standard hands and participate in the formation of unique variants, which are impossible without them.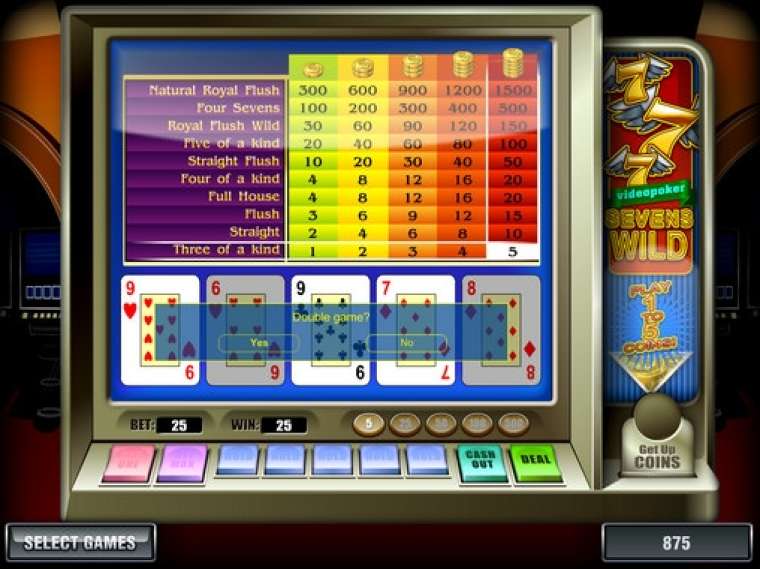 Play Sevens Wild Poker
Sevens Wild Poker is a free online video poker developed by GloboTech. A standard 52-card deck with no extra jokers is used to play it. Their role is performed by four sevens. Cards are shuffled before each deal.
The aim of Sevens Wild Poker is to collect a paid hand. If necessary, it is possible to exchange any number of cards once for free. The lowest-ranking hand is a three of a kind. The highest-ranking hand is a natural royal flush (without sevens).
Apart from the standard hands, there are unique combinations in Sevens Wild Poker: four sevens, wild royal flush and five of a kind (four of a kind with a seven).
Users can play Sevens Wild Poker betting from one to five coins. The highest bet does not provide any advantage (such as disproportionately high payouts in other versions of video poker). Therefore, it is unnecessary to make it.
The gameplay consists of the usual stages: deal, exchange of any number of cards, payouts for hands provided by the paytable.
If you want to try to increase your payout, you can trigger a risk game. You have to select one card among four hole cards that is higher in rank than the upcard. If you succeed, the prize is doubled. If you fail, you will lose your bet.
Bonuses and Jackpots
Sevens Wild Poker does not have bonuses and progressive jackpots.
Sevens Wild Poker Interface
The interface of Wild Poker is very simple. The following buttons are used to control the gameplay:
Deal allows dealing cards
Bet One is used to add one coin to the bet
Bet Max allows betting five coins
Hold allows leaving cards
Cash Out is used to collect the payout
Bet shows the bet size
Win shows the payout
Double Game is used to double your payout
User settings in Sevens Wild Poker are almost absent. The paytable is located at the top of the major window.
Conclusion
Sevens Wild Poker is an interesting version of video poker, which will please fans of wild cards and non-trivial hands. In the near future the portal Casinoz will try to offer you the optimal strategy for Sevens Wild Poker. At the moment, we are just able to confirm that it significantly differs from the versions that are used in other kinds of video poker, so there is no sense in using it.
Where to play Sevens Wild Poker for free or real money?
Sevens Wild Poker can be found at various online casinos operating on software developed by GloboTech. Azart Play Casino, which belongs to such establishments, can allow users to play this video poker for fun without registration. This can be done directly on the website Casinoz.