 Character Roulette Review
There are roulette with thirty-seven numbers on the track (European), with thirty eight (American), there are thirty six (non-zero) or even twelve (mini roulette). But you would not believe there are the ones without numbers at all. We know at least one such model and we'd like to tell you about it.
The game is called Character Roulette released by GloboTech company. Portal Casinoz prepared for you an overview of this unusual roulette, from which you will learn about all of its original features.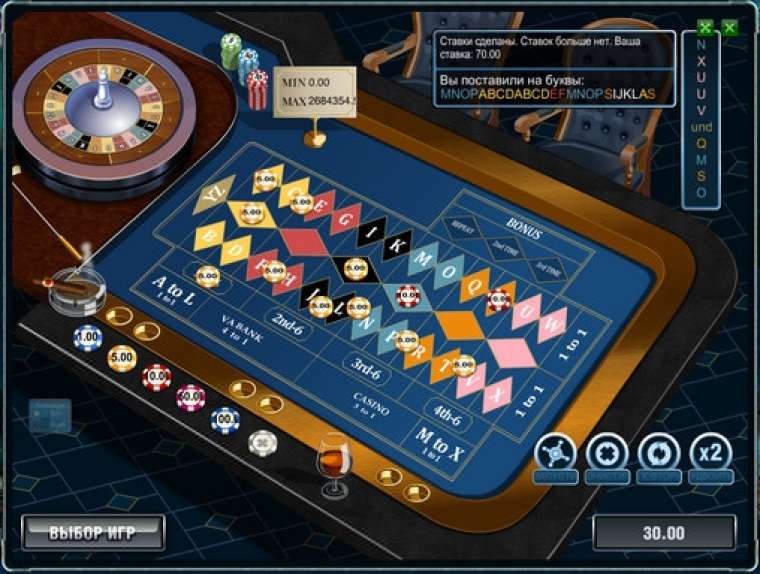 Play Character Roulette
Character Roulette -
is an unusual online roulette
, which has no numbers. Instead, the track wheel and table layout shows the twenty-six letters of the alphabet. Twenty-four letters from A to W occupy blocks for inner bets. They are arranged in two columns. In place of the zero field are letters 'YZ'.
Letters have six colors (four by each color). Furthermore,YZ pair has a different one.
Objective of Roulette Character is the same as any other roulette game. You have to predict the winning letter and make a bet.
Now more about the bets. They differ substantially from those present in the European, French or American roulette. Lets consider them.
Basic bets in Character Roulette (payout ratios are shown in parentheses):
Rebet - repeat ante
New Bet - make a new ante
Straight Up - one letter rate (23: 1)
Split - a bet on two letters (11: 1)
Six Letter - bet on the six letters (3: 1)
Color - the rate on the four letters of the same color (5: 1)
Odd/Even - bet on the first or second column with twelve letters, analogue couple/Odd (1:1)
A to L/M to X - bet on the first or second twelve letters, analogue of big/small numbers (1: 1)
Special rates Roulette Characters:
Va Bank - bet on the five letters of which can make the phrase Va Bank (4: 1)
Casino - a bet on the six letters from which you can make a word Casino (3: 1)
If you roll the letter Y or Z, which are considered to be an analogue of Character Roulette zero, all even money bets are lost. Dividends from this field as is done at a rate of 23: 1, although the winning numbers for a two.
The ranges of bets for each item are listed in the pop-up window. You can see it by clicking on the plate standing on the table.
Character Roulette Bonus games
The Character Roulette provides bonus payments for additional bets. Let's consider them:
Bonus Repeat - hedging its bets, then the wheel rotates twice, and bet wins if two drops of any one and the same number (25: 1)
Bonus 2nd Time - is triple the rate, then the wheel rotates three times and bet wins if three drops of any one and the same number (625: 1)
Bonus 3rd Time - is a four-bet before the wheel rotates four times and bet wins if four consecutive falls of any one and the same number (10 000: 1)
They can only be done if there are no other bids on the field.
Character Roulette Interface
In general, the Character Roulette interface is quite clear. The main control panel buttons are located in the lower right corner. With their help, you can run the reel repeat rate with the previous spin, double them and clean up the pieces from the board.
In the upper right corner you can see a display with the latest winning letters, as well as a couple of lines of information with important data.
The game is set to full screen (if necessary). You can turn off sound and animation effects completely.
Conclusion
Character Roulette undoubtedly will be interesting for all fans of unusual roulettes, because they obviously have not seen nothing like this before. We did not estimate return rates for each of the bets but even at first glance it is clear that they differ significantly by this indicator. This means that the game has an element of strategy. Later, we will try to give you practical advice on this roulette.
Where to play Character Roulette for free or real money?
Character Roulette is available at Azart Play Casino as well as at other casinos powered by GloboTech software. You can play without registration just to try the game. Take advantage of this opportunity if you want to play Character Roulette just "for fun." Real money can be considered only after opening an account and making a deposit.