 La Boule Roulette Review
In the eighteenth - nineteenth centuries in European casinos was very popular kind of roulette called La Boule, which is now known only by the most curious fans of gambling. From other roulette this version is distinguished by the absence of the rotating wheel.
Reel at La Boule Roulette is a thicket, at the bottom of which are the cells with numbers from one to nine. The ball started by dealer hand rotates in the inner surface of the roulette Boule and stops in one of the rooms, which is declared a winner.
Boule Roulette is hard to find in modern online casinos. GloboTech is one of online gambling software manufacturer that has Boule Roulette in its product range. Portal Casinoz will introduce you to this original game.
Rating
Excellent
8.56 /10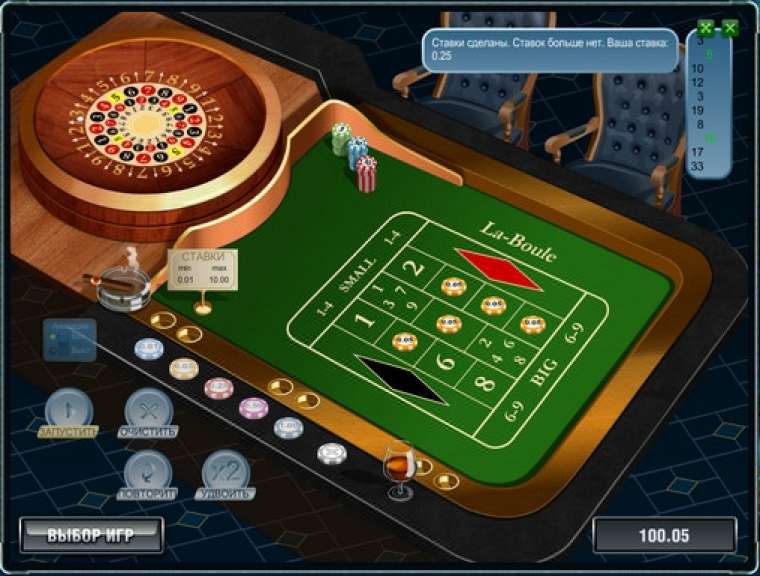 Play La Boule Roulette
Online version of the ancient variety of La Boule Roulette with special rules do not differ too much in complexity.
The roulette wheel has the form of a bowl without rotating element, which has thirty-six cells with numbers from one to nine. As you know, each number is repeated four times.
No. 1, 3, 6 and 8 are black, and 2, 4, 7 and 9 - red. Five, playing the role of zero, is yellow.
The goal of the game in La Boule Roulette is to predict which number will be the winner, and to make one or more of the relevant rates.
In La Boule Roulette the following bets are accepted :
In the clean room - a bet on a single number (paid 7: 1)
Red/Black - bet on four red and four black numbers (payout 1: 1)
In large/small numbers - a bet on the numbers 6-9 or 1-4 (payment of 1: 1)
On Odd/Even - bet on the numbers 1, 3, 7 and 9, or 2, 4, 6 and 8.
Bets placed on a group of numbers, loses if the number 5.
Oral rates in La Boule Roulette there.
In AzartPlay Casino roulette La Boule provides three separate tables. They differ in the allowable range of bets: Standard - $0.01 - $10, High Bets - $1 - $10 and VIP - $5 - $500 (rates are listed in one sector).
La Boule Roulette Bonus games
In La Boule Roulette, there are no bonus payments (although some casinos introduced them for the popularization of the roulette).
La Boule Roulette Interface
La Boule Roulette has a simple interface. This saves us from having to describe in detail the functions of all the buttons, windows, and other elements on the control panel.
Rates in La Boule Roulette chips are made denomination chosen by the client. They can be repeated and a doubled from the previous spin.
It is allowed to disable gameplay animation and a soundtrack. There is no need to download La Boule Roulette because it runs directly on the casino site.
Conclusion
Undoubtedly, the true fans of roulette must experience La Boule Roulette. At least in order to be aware of the variety. Rules of the game is incredibly easy (even easier than in a classic European Roulette). The interface is very user-friendly. In short, an interesting game that we think is worthy of your attention.
Later Casinoz will tell you about the chances in Boule roulette and give some tips and tricks for the game. Stay tuned for new articles on the site.
Where to play La Boule Roulette for free or real money?
The game is offered by AzartPlay Casino, where it is available in the training and real modes. By conditional bets at this online casino it is allowed to run the game without registration. To risk real money, you will need to open an account and make a deposit. Also, La Boule Roulette can be found in other online casinos powered by GloboTech software.