 About
Oasis poker is used to be very popular in former Soviet Republics before the prohibition of gambling. It is still popular among numerous customers of casinos, so the majority of establishments include it in the list of offered games.
We offer you to familiarize yourself with a virtual version of Oasis Poker developed by GloboTech.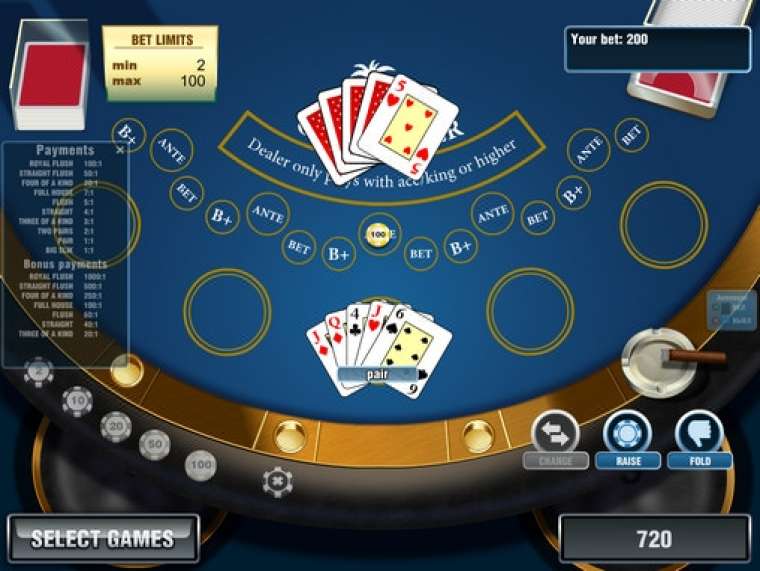 Play Oasis Poker (GloboTech)
Oasis Poker is an online version of the famous oasis poker with side bets, which can be played betting on one or two hands. When you play betting on two hands, cards on the boxes are revealed one by one.
A standard 52-card deck with no jokers is used on Oasis Poker. The table layout is traditional. It has marked fields for cards, ante, raise and bonus bet.
The general rules for oasis poker are described in the special article of the specialized section on the website Casinoz. We will not pay attention to them and just describe features of Oasis Poker released by GloboTech:
The lowest-ranking dealer's hand is an ace-king.
It is allowed to exchange one card paying one ante.
If the dealer has a hand, the client's winning hand is paid in the following way: ante - 1:1, raise - according to the paytable. If there is no at least lowest-ranking hand, only the ante is paid on all boxes.
There are the following multipliers for raise:
Pair - 1:1
Two pairs - 2:1
Three of a kind - 3:1
Straight - 4:1
Flush - 5:1
Full house - 7:1
Four of a kind - 20:1
Straight - 50:1
Royal flush - 100:1
Casinos may establish limits for the highest payouts, so high-ranking hands can be paid not fully.

Each round has the following stages:
The player makes a bet.
The croupier deals cards to the players and himself. All of the player's cards are faced up (in case of multi-hand game they are revealed one by one), and the dealer's face up card is located only on the top.
The player makes a decision concerning hands (exchange of one card, call or fold).
The dealer reveals cards and compares hands and makes payouts.
After that, a new round starts.
Oasis Poker (GloboTech) Bonus games
In Oasis Poker it is possible to make side bets that act independently of the basic bats and outcome of the game. They are paid according to the established multipliers in case of the formation of the following hands in the dealt five cards (without exchange):
Three of a kind - 20:1
Straight - 40:1
Flush - 60:1
Full house - 100:1
Four of a kind - 250:1
Straight flush - 500:1
Royal flush - 1,000:1
Side bets can not be made without basic ones. They can not exceed the ante. Payouts for them are made immediately, even before making decisions concerning player's hands.
Oasis Poker Interface
We offer the description of the basic buttons:
New is used to start a new round
Cancel allows removing bets
Repeat is used to repeat the previous bet
Deal allows dealing cards
Change is used to exchange the selected card
Raise is used to call
Fold allows folding
The range of bets is indicated in the special table. If you click on it, the paytable will appear.
Conclusion
Oasis Poker is an online version of the usual oasis poker with bonus bets. Its advantages include a user-friendly interface and good functionality. We did not find any original features of this game.
The publication on the website Casinoz deals with the detailed basic strategy for oasis poker.
Where to play Oasis Poker (GloboTech) for free or real money?
You can play Oasis Poker released by GloboTech at Azart Play Casino. It is also available directly on the portal Casinoz without registration for conditional bets.