 Blackjack Switch Review
Any client of casinos who prefers card games has surely had a desire to switch cards between two boxes in order to form a higher-ranking hand. It is no secret that some unscrupulous players sometimes commit such frauds.
And they should better try their luck playing an online game called Blackjack Switch developed by GloboTech. It officially allows switching the cards from one box to another, but the rules for this blackjack are not particularly beneficial for customers.
Rating
Excellent
8.33 /10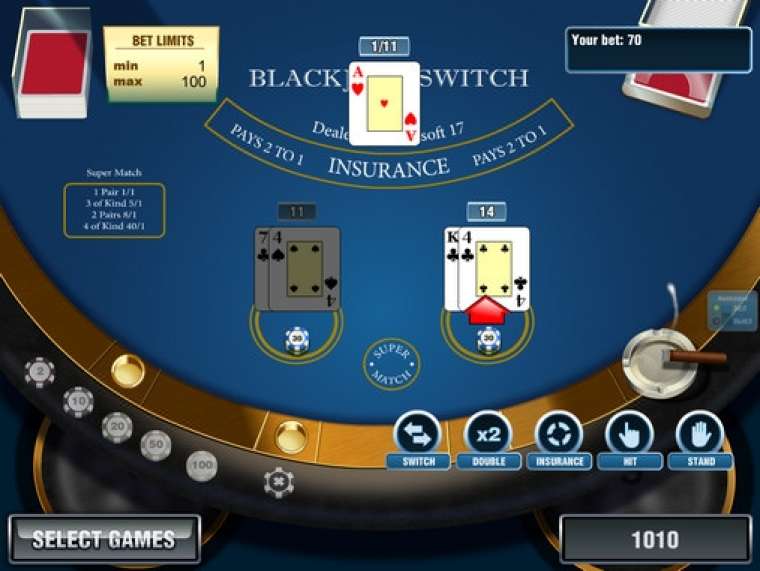 Play Blackjack Switch
Blackjack Switch is an online blackjack released by GloboTech with the opportunity to exchange cards between boxes and side bets. Six standard 52-card decks without jokers are used in this game. They are shuffled before each deal.
It is possible to play on two boxes with the same bet. Users can also make side bets (it is discussed in a special section of this review). Users can wager from one to one hundred credits at Azart Play Casino per box.
The aim of Blackjack Switch is to beat the dealer, gaining more points without exceeding twenty-one. Gamers can also win if the dealer goes bust or on the side bet.
Let's discuss the basic rules for Blackjack Switch:
The croupier initially deals one upcard to himself.
The dealer stands on a hard 17 and hits on a soft 17.
If the dealer gains 22 points, he does not lose. The bet is returned to the player instead.
The dealer wins if the scores are equal.
The player can switch between top cards of boxes for free.
It is allowed to double on any first two cards.
It is allowed to split any cards of the same value (even with different ranks).
It is allowed to split aces once and one card is added to them.
There is no blackjack after a spilt (a ten-ace is considered to be 21).
If dealer's upcard is an ace, insurance against blackjack is provided.
The following multipliers for basic bets are valid in Blackjack Switch:
Ordinary box - 1:1
Blackjack - 1:1
Insurance - 2:1
The rules for Blackjack Switch can be read on the website of Azart Play Casino. However if English is not your native language, you may find mistakes in versions of rules written in other languages.
Blackjack Switch Bonus games
In Blackjack Switch users can make a side bet on the field Super Match, which is located between the main boxes. It is independent of the basic bet and wins if the player's cards will have one of the following poker hands (multipliers are indicated):
Pair - 1:1
Three of a kind - 5:1
Two pairs - 8:1
Four of a kind - 40:1
Multipliers are indicated directly on the table layout.
Blackjack Switch Interface
Blackjack Switch has a lot of various buttons:
New is used to start a new round
Repeat allows repeating the previous bets
Cancel is used to remove all bets
Deal allows dealing cards
Split is used to split cards forming two hands
Insurance is used to take insurance
Switch allows exchanging top cards between boxes
Double is used to double the payout
Hit allows taking another card
Stand is used to stop hitting
User settings are almost unavailable.
Conclusion
The opportunity to exchange cards between boxes is surely captivating, but you should keep in mind that this has its price: the dealer hits on a soft 17, does not lose gaining 22 points and wins if the scores are equal and the blackjack is paid 1:1.
In addition, keep in mind that the basic strategy for playing classic European blackjack is not suitable for Blackjack Switch. In further articles we will provide you with a version designed especially for Blackjack Switch.
Where to play Blackjack Switch for free or real money?
You don't have to look for Blackjack Switch for a long period of time. It is available at online casinos operating on software released by GloboTech. This blackjack without registration can be tested at Azart Play Casino or directly on the website Casinoz for conditional bets.