 Caribbean Poker (GloboTech) Review
Caribbean poker has been one of the most popular games in land-based casinos of Russia, Ukraine, other CIS countries and Baltic states. Detailed rules for Caribbean poker are available in the corresponding article of the section with rules on the website Casinoz. This review deals with Caribbean Poker manufactured by GloboTech.
Rating
Excellent
8.78 /10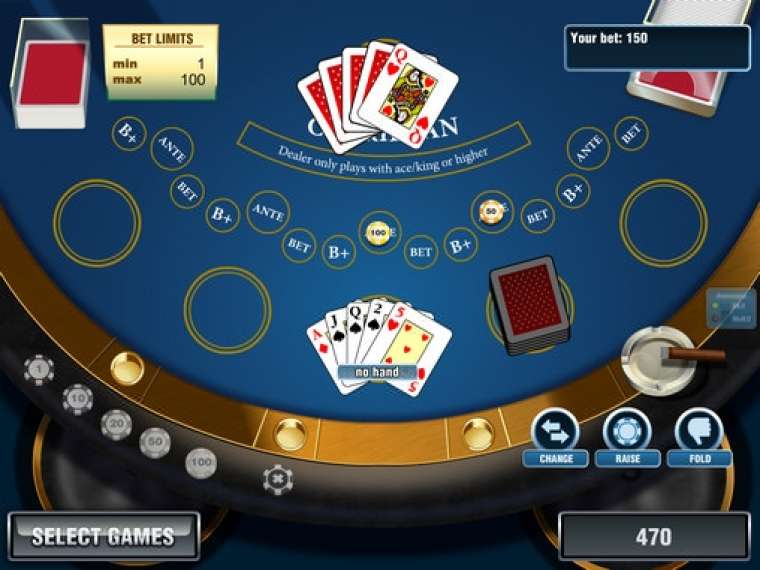 Play Caribbean Poker (GloboTech)
Caribbean Poker is an online version of Caribbean poker. It is played using one standard 52-card deck without jokers. The cards are shuffled before each round. The standard poker hands are valid in Caribbean Poker.
It is allowed to wager on one or two hands. Their ranges are determined by the administration of a casino. It is allowed to stake from one to one hundred credits per hand at AzartPlay Casino.
As soon as the antes have been placed, the player receives five cards on each box (if there are a few of them). Cards on one box are laid face up. The croupier also deals five cards to himself, and the last of them is laid face up.
Then the client decides what to do with the cards. He or she can keep playing making a bet (it is equal to two antes), exchange the five cards by paying an amount equal to the ante, or fold losing the ante.
When a player makes the decisions, the dealer reveals his cards comparing hands, removing losing bets and paying out winnings.
The lowest-ranking dealer's hand is an ace-king. If there is no combination, an ante on all boxes is paid according to the 1:1 ratio. If the combination is present, and the player's hand is higher, the ante is paid 1:1. A bet is paid according to the following multipliers depending on the formed hand:
Pair - 1:1
Two pairs - 2:1
Three of a kind - 3:1
Straight - 4:1
Flush - 5:1
Full house - 7:1
Four of a kind - 20:1
Straight flush - 50:1
Royal flush - 100:1
The dealer's and player's hands are compared according to the general rules. For example, pairs of the same rank are compared using a high card that is not included in the combination, and full houses are compared based on the rank of a three of a kind.
Caribbean Poker (GloboTech) Bonus games
The progressive jackpot in Caribbean Poker is not provided. However there is an opportunity to make side bets on the field B+. They can not exceed an ante and are independent of it.
Payouts for such bets are made if the player has at least three of a kind. There are the following multipliers:
Three of a kind - 20:1
Straight - 40:1
Flush - 60:1
Full house - 100:1
Four of a kind - 250:1
Straight flush - 500:1
Royal flush - 1,000:1
If the cards do not have bonus combinations, the dealer removes a side bet without waiting for the player's decisions.
Caribbean Poker Interface
The game is designed in the style that is traditional for models developed by GloboTech. Let's explain the functions of basic interface elements:
New allows starting a new round
Deal allows dealing cards
Cancel is used to remove all bets
Repeat allows repeating bets
Change is used to exchange all cards
Raise allows making a bet
Fold is used to stop playing
The range of available bets in Caribbean Poker Set is indicated next to the board located near a discard tray. If you click on it, the paytable will be opened. There are a few settings.
Conclusion
There is no need to talk about the pros and cons of Caribbean Poker again. Most gamblers know them. We have already published information about
Where to play Caribbean Poker (GloboTech) for free or real money?
You can test Caribbean Poker at Azart Play Casino, where it is available for both real and training bets, or at other online casinos running on software released by GloboTech. Users may play Caribbean Poker for fun without registration directly on the website Casinoz.